Lots of making recently.  My Dremel tinkering continues, in the form of a two-pronged hair stick (which works pretty well, and doesn't pull on my hair as much as a regular hair tie), and a wooden box made from the repurposed foot of a sofa.
The hair stick was a straightforward process, a matter of drawing the desired shape on the top, and on the side, and then using the dremel tools (and scroll saw to start with) to carve it down to the desired shape.  I used some wenge wood, which is nicely solid (less likely to snap) and pretty.  It also smells really nice, incidentally, but I plan to lacquer the thing.  You'll see in the sofa foot box, I got into a bit of marquetry, and am considering doing a little decoration on the wide end of this hair stick.  The color of it disappears a bit in my dark blond hair; putting a finish on and adding some patterned details should help.
The full process of making my Repurposed Sofa Foot Box (with Bonus Marquetry) can be found on Instructables.  It's pretty fun, and a good project for getting accustomed to the dremel Multi-Max.  It's mostly made from used parts, except for the hinges.  Had I time, I would have made wooden hinges for it, from that same lovely wenge.  Wooden hinges and associated Instructable, future project.
| | |
| --- | --- |
| | |
3D printing is something I haven't done much since last year at the Exploratory on the Replicator 2.  Lately, I've been playing with 123D Design (lots of other software options out there to explore too), and recently put together this little monster based on a papercut I did a while back on hitRECord.  It's largely an extrusion of a 2D image (exported from Illustrator to .svg and imported to 123D Design – in case you were wondering how to do that), with some adjustments to the edges, and holes for articulated arms.  There's a bit of an overhang issue at those cut out spots, but it's small enough and loose enough as to not cause a major problem.  I'll probably come up with a different solution for the next version, especially as it'd be nice to have the limbs extend further into the body, which will require larger holes.  I attached the limbs with wire, curled at either end.  Another option would be to use a piece of filament and melt it at either end to hold the joints in place.  I shall experiment and let you know.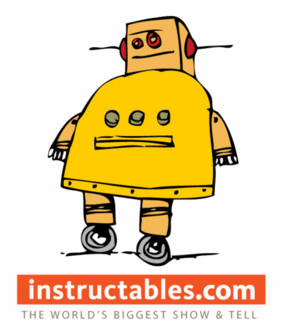 Next on my plate is designing a 3d printed bot with a crank and various other mechanisms. I might make it look like the Instructables robot, cuz that thing is cute and looks like it should be moving.