We are making a movie this week at reDiscover's Tinkering School, where I am lead instructor. And when I say "we are making," I mean the kids. They will be designing and building absolutely everything – the script, the sets and props, the camera dolly, and all of the characters/creatures. Today, the campers (aged 7-12) were presented with the week's big build theme: Monster Attack Movie, and – after much debate and voting – they decided on a Lightning Marshmallow Man for their monster.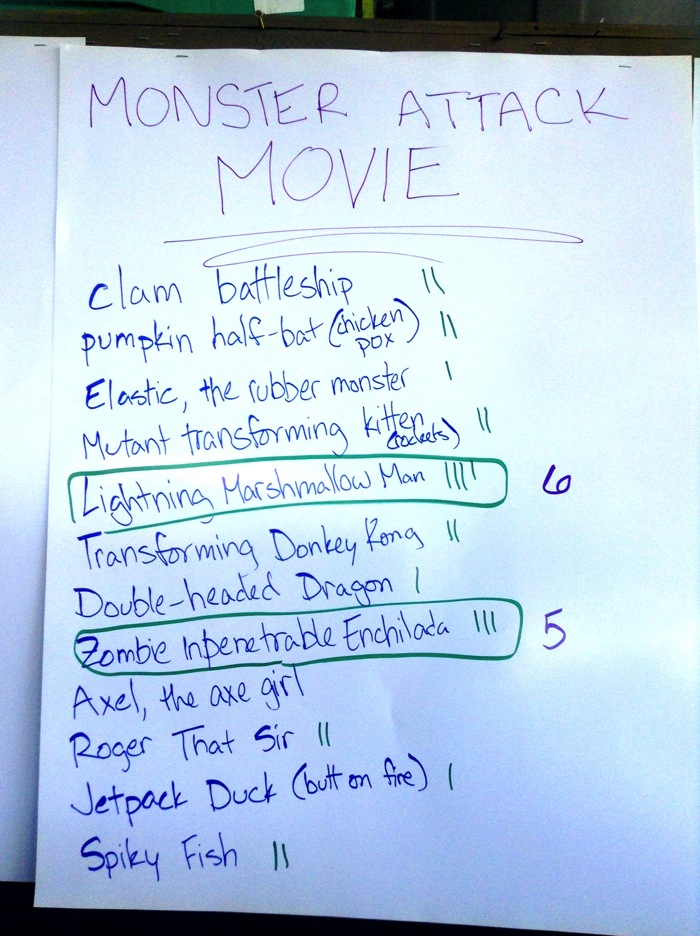 (The creativity behind this kind of brainstorm list just makes my day.)
It's interesting to contemplate the things that the kids considered monster-worthy, especially as each society's monsters are a reflection of the threats and concerns of the time period. There is obviously a heavy element of whimsy (a mutant transforming kitten, for example), and a lot of animals or everyday things turned upside down (a zombie vulnerable only to enchiladas), but the story that developed from their chosen monster says a lot. The marshmallow man comes about when a barrel of toxic waste spills on a bag of marshmallows. An environmental hazard makes the fluffiest of sweets deadly, and brings on natural disasters in the form of targeted lightning strikes. It does say a lot about what children see as some of the biggest threats right now.
Yesterday, they had training in all of the main tools of our shop: clamps (regular and corner), power drills and drivers, squares and T-squares, tape measures, hand saws, saw horses, jig saws, and the chop saw (the last two always are used with direct adult supervision).
The Tinkering Challenges from yesterday were to build a structure from dowels and corks with a trick that can easily knock it over, and – in the afternoon – to build something to move a cup of water around the room without  spilling it or holding it with their hands. We wrote down what we discovered from those challenges, and today we got to use those observations in planning the set destruction and the camera dolly.
They absolutely dove into building once we got going. The groups (which I always like to assign after the brainstorm, and based on what sparks their interest) had a few prompt questions to help them think of what aspects they would need to plan for. Fortunately, I had my laptop with me, because our writers have some killer keyboard skills and had enough ideas to need that speed. The monster building group decided on their materials, started building the frame, and learned how to use spade drill bits when they wanted larger holes. The set/props group began construction on a toxic waste refinery, the empire state building, and marshmallow bombs that break apart when they hit the ground (a really effective design, where foam balls are cut in half and held together loosely with a cork in the middle). The camera group assessed the challenge results from before and created their own design for a dolly based on them, which includes spaces for prop storage and snacks. Gotta love crafty.

I'm really looking forward to tomorrow, and will post again with pictures!