A roundup of my videos on Barb Makes Things from the last month or so: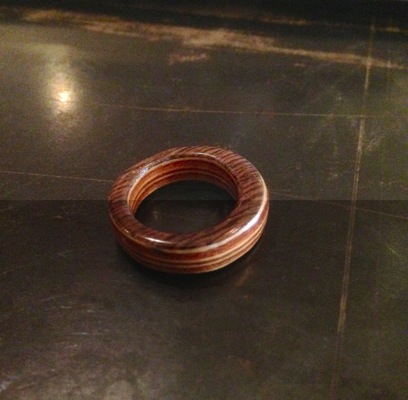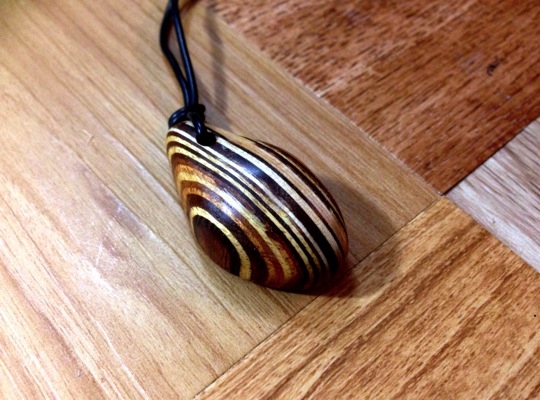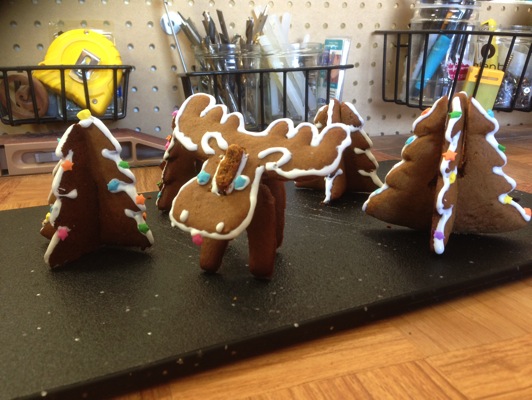 I've been making a fair amount of jewelry lately, and Rockler has tons of great, super thin veneer sheets. There are a few tutorials on instructables about making bent wood rings, I decided to go another direction… literally. I've now made several rings with many glued layers, and which I finish with tung oil and cyanoacrylate (super glue), and in this video, I make a necklace in a similar style.
When I say 3D, I mean that in multiple ways: I 3D modeled and printed custom cookie cutters, and the resulting pieces slot together to make a shape that stands up. I only show the process of modeling the tree cookie cutters, but I also created ones for a moose, which you do see toward the end of the video. They were tasty, and an awful lot of fun to make.
This is actually footage from back when I was first setting up my desk, so it's technically my first video. I used floor tiles and hot glued them to a piece of plywood that rests on two small bookshelves. I could have used a more permanent adhesive, or done a finishing coat over the whole thing, but I wanted the flexibility to peel up and replace individual tiles, should they get damaged. And a hot glue gun is an often underestimated tool; the tiles are all staying perfectly.
I've done a number of tutorial videos in the past, and the tripod is simultaneously helpful, and a huge pain. Getting the camera in the right place for the right shot is one thing, but when you need to reach around it to try to make something, all the while paying extra attention to staying in the shot, well… I knew there had to be a better solution. My first attempt was a custom frame for my camera that would hang from four hooks in the ceiling. It worked for a while, but wasn't entirely reliable, and wasn't remotely adjustable. Hence, the custom camera arm. I love mechanisms, especially ones made from wood, and this extending arm does the trick.
My work at the reDiscover Center focuses mainly on reusing materials, so this video shows a project that someone might make there (actually, cars are a popular thing with the kids who come in). I also spend most of this video working at the kids' makerspace, so you get to see some of the tools that we (and the kids!) use there.